Hands-on projects and active teamwork to generate ideas and find solutions are the hallmarks of Bertschi instruction both in and out of the classroom. Learn more about our continually evolving teaching practices.
Bertschi School believes that students learn best when they are:
Safe and known in an inclusive community that values diverse perspectives,
Supported in developing social-emotional skills,
Provided academic choice and challenge at their "just right level,"
Engaged in meaningful work,
Encouraged to problem solve through inquiry, trial, and error,
Empowered to take risks and make change, and
Given opportunities to collaborate and dialogue with a diverse group of learners.
Over time, we guide students to develop a broadminded outlook that is supported by both skills and confidence.They are encouraged and encourage others. They feel positively about themselves and model good citizenship in a global community. They do their part as good stewards of our planet and inspire others to do their part. They each know that every individual can make a difference.
---
Integration: An Inter-Connected World
Bertschi's curriculum makes connections cross all disciplines, from math to art to social studies. Our resource teachers are experts in their fields, and help students at all levels understand the interdisciplinary applications of different areas of study.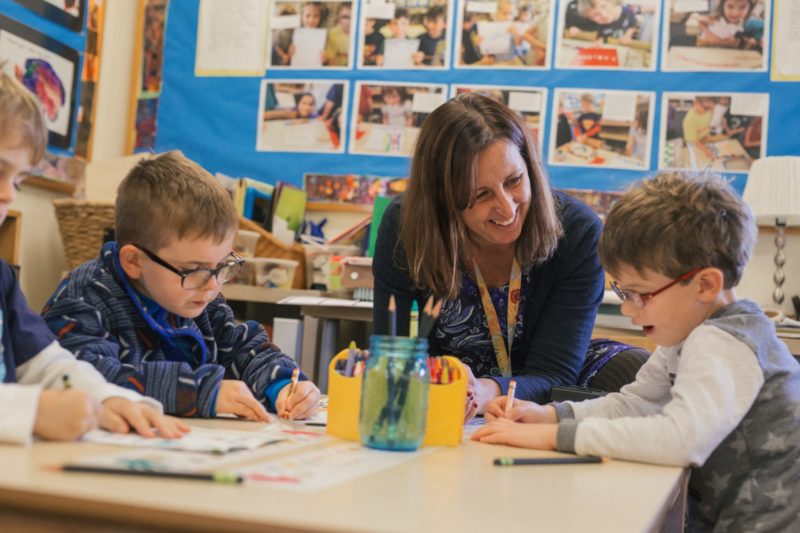 Collaboration: Sharing our Knowledge
Teachers across all grade levels work together to stay at the forefront of teaching, recently revising revise the scope and sequence of Bertschi's social-emotional learning curriculum.
Differentiation: Working at the "Just Right" Level
Classroom assistants and Learning Services teachers work with smaller groups to support mathematics at many levels.
Collegiality: Modeling Life-Long Learning
Our teachers' growth mindset is demonstrated to their commitment to ongoing professional development, continuing education, and a self-developed peer observation and growth system.