Six weeks of creativity, discovery, and fun • Open to all
---
June 24 - August 2, 2019
Bertschi Summer Exploration camps are week-long, full day and led by trained, experienced professionals with a strong commitment to working with children. Through a balanced blend of structured activities and free play experiences, campers engage in cooperation, collaboration, and respect for each other.
Online registration opens Monday, February 4 at 9:00 PM.
Questions? Email summer@bertschi.org.
---
Registration Info
Camp Hours
We welcome children entering grades K-6 (as of Fall 2019)
Register early as camp sizes are limited and filled on a first-come, first-served basis
Payment by credit card is due at the time of registration
Camp fees are non-refundable unless a camp is cancelled due to low enrollment
All camps run 9:00 AM - 4:00 PM
Drop-off opens at 8:30 AM
Pick-up is by 4:30 PM (late fees apply after 4:30 PM)
Campers bring a nut-free lunch and snack daily
---
| Camp Name | Dates | Grades* |
| --- | --- | --- |
| Board Games Extravaganza | Week 1: June 24-28 | 3-6 |
| Clay Animation and Comics | Week 1: June 24-28 | K-6 |
| Magical Adventures | Week 1: June 24-28 | K-3 |
| Bertschi Explores: Lakes and Water Parks | Week 2: July 1-5 (no camp July 4) | K-6 |
| Ultimate Frisbee/Frisbee Golf | Week 2: July 1-5 (no camp July 4) | 1-5 |
| Design Thinkers: Tiny Home Takeover | Week 2: July 1-5 (no camp July 4) | 3-6 |
| Bertschi Explores: Water Lab | Week 3: July 8-12 | K-6 |
| Touch/Flag Football and Futbol | Week 3: July 8-12 | 2-6 |
| Mime, Slapstick, and Clowning | Week 3: July 8-12 | 2-6 |
| Design Like Da Vinci | Week 3: July 8-12 | 3-6 |
| Bertschi Explores: I Heart the Puget Sound | Week 4: July 15-19 | K-6 |
| All-Sport Camp | Week 4: July 15-19 | 1-6 |
| Playmaking | Week 4: July 15-19 | 2-6 |
| Empowering Girlhood | Week 4: July 15-19 | 4-6 |
| Bertschi Explores: Seed to Table | Week 5: July 22-26 | K-6 |
| Coding | Week 5: July 22-26 | 1-6 |
| Parkour | Week 5: July 22-26 | K-2 |
| Music Production and Electronic Sound | Week 5: July 22-26 | 2-6 |
| Sustainable World Beats | Week 6: July 29-August 2 | 1-6 |
| Parkour | Week 6: July 29-August 2 | 3-6 |
| Sci-Fi Art and Brick Animation | Week 6: July 29-August 2 | K-6 |
*Grade level limits are determined by a child's entering grade in Fall 2019
---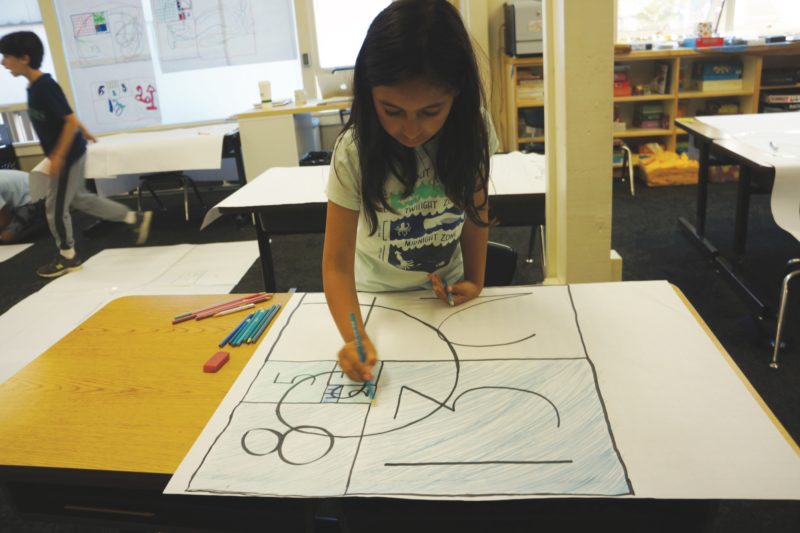 Create Art
---